My Personal Quest
by Dean Joseph Jacques, Author of Chivalry-Now, the Code of Male Ethics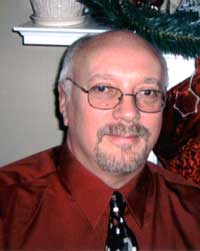 CN Advocate Dean Jacques
The particulars of my life are not important, and shall not be charted out as if they were. It is my quest for Truth that matters, no more than your own. After a lifetime of searching, I have stumbled on some discoveries that you might find valuable, if we share similar aspirations.
For one thing, I have concluded that the pursuit of Truth is nothing less than the search for the Holy Grail. To understand this, you must realize that the Grail is not a cup, or stone or platter. It is the Mystery which draws us into the world to discover what it is. It is the profound Mystery we come face-to-face with when our search is ended (does it ever really end?). Until that final goal, we catch glimpses of the Grail. We find meaningful portents in serendipity. When we are on the right path, invisible hands seem to guide and test us. The energy seems palpable, exciting us to the depth of authentic living. When we stray from the path, bad things happen. We lose the energy of life, and supplement it with meaningless distraction. We may become obsessed by bad luck or illness. Life becomes void of purpose. The future bleak. We are tempted to follow this guru or that cult, and fall out of the quest entirely.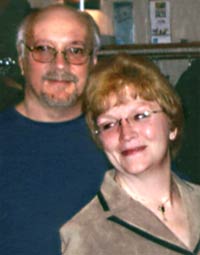 Dean & his wife Lynne
My own quest started on the banks of the Connecticut River. I was 12 years old back then, a city boy just introduced to the rural countryside. I was not pleased having to be there each weekend, away from my home and friends. For various reasons, it was unavoidable.
Nature's beauty eventually won me over. One day, I strolled through neighboring tobacco fields and found myself on the serene banks of the Connecticut River. This rapidly became my special place to visit, an escape where others could not impose themselves, and my thoughts could be my own. Here I would walk along the river bank contemplating life and nature and the possibility of God. A seed was planted in my heart back then. A seed that questioned things with new integrity, but did not provide any answers. I found solace, however, in the asking. (See The River)
There was something in nature's silence that intrigued me. It seemed more real that the noise and complaints of my family. I could not understand it then, but I had started on my journey to find the Holy Grail.

Martial Arts.
(Click to enlarge.)
About this time I started my martial arts training and slowly delved into the wisdom of the Far East. Taoism impressed me greatly, but my Western attachments told me that something was missing in its appeal. Urged by the desire to discover my own of truth, I broke away from the Eastern traditions and looked to my own cultural heritage. This wasn't easy. There seemed to be nothing similar to Eastern martial art philosophy. I had heard of chivalry, of course, but didn't know enough about it to take it seriously. To find what I was looking for, I had to look inside myself.
In the autumn of 1974 (I was 23 years old), I visited a lake one evening and was confronted by the most beautiful sunset I had ever seen. But it more than just a golden sky reflected in the calm water of the lake. (See The Lake) It was the experience that it inspired within myself that had awakened the Grail inside me—although I had no idea at the time that this was happening. The feeling of affirmation, both within and without, was overwhelming. It changed me—or rather, made me capable of change. It told me there was a truer reality than the one I participated in every day. Not a reality of ghosts or spirituality in the religious sense—but a spirituality inherent in matter itself, a quality we cannot appreciate without emptying ourselves first. For the Grail is symbolically an empty cup somehow synonymous with life and hope. We experience its true nature only when we empty it of all distillations, distractions and false conclusions that others have poured into it. There in, we find ourselves.
It is said that all boys experience something similar to what I did at the lake—some short encounter with nature that grabs their attention profoundly. Most boys place it aside as something pleasant but meaningless. Some experience fear and purposely ignore it. A few are fascinated by the mystery of it all. They embrace it as a challenge to comprehend. I was one of the latter.
The event never left me. It became the backdrop for my thoughts and values. I explored various theologies and philosophies, judging them against this mystical experience that I knew to be true. I even wrote a manuscript called Until the Dawn, an attempt to reconcile Christian theology with the immediacy of experiential Truth. While very impressed by such scholarly writers as Tiellard de Chardin and Paul Tillich, I started to drift away from Christian theology, which seemed to twist the inexplicable to fit its claims and doctrines. Chinese Taoism greatly impressed me, but its distrust of learning and science ultimately limited its potential.
In 1993, I attended a local rendition of the play Camelot. I went there expecting nothing more than an enjoyable evening. As the play went on, however, I felt something stir inside me. The message was unclear. I left the auditorium knowing that something in this play had personal significance to me.
I started to investigate Arthurian literature to discover what it was. Little did I know what I was walking into. The literature and legends encompassed a period of time that included almost a thousand years, resurrecting during the Victorian Era and modern times. Even after years of study, I am still a novice in the field, focusing on Celtic and French sources while setting most of the Welsh and Germanic aside.
A literary agent (in whom I am much indebted) suggested that I write about something that I knew well, combined with my own unique interests. My career was in social services, while my interests centered on medieval literature. Why not take concepts of chivalry and apply them to the cultural and social problems of the day? It was then I started to realize how much of Western culture was formed during the Middle Ages, and by Arthurian literature in particular. Romantic love, our concept of being a gentleman, loyalty, honesty, courtesy… the list seemed unending! It occurred to me that while Western civilization was rooted in the formation of chivalrous values, we we now suffer from a cultural disconnect that was accentuated by the rapid advance of the Industrial Age and today's technology. While we still have many of the words, their meanings were degraded, and almost lost.
Here I found my theme! I would take my grasp of medieval chivalry and give it a chance to evolve to the needs of today's culture. I called my manuscript Chivalry-Now.
Although it was a labor of love, the results were not very good. I set the work aside with the possibility of writing it again in the future. In the meantime, I wrote a play and then another book-length manuscript depicting the story of Sir Lancelot du Lac. These were also put aside as I concentrated on my career and relationships.
In 2002, my career in social services abruptly ended and I tried my hand at web site design. The economy turned, and I could not find a decent paying job. I started my own business, but barely made ends meet. Although I was able to find temporary employment now and then, the future looked bleak. Depression, as well as desperation, started to set in.
In late 2005, I read a small book entitled He — Understanding Masculine Psychology, by Robert A. Johnson. In it I found some interesting conclusions about the story of Sir Perceval (Parsifal) and the Holy Grail. There was a reference to a common male experience similar to the one I had known at the lake, and how some men respond to it the same way I did. This was all the inspiration I needed to get back on course.
I now understood that my experience at the River and the Lake were analogous to being confronted by the Grail Castle in the Perceval story. The first encounter raised numerous questions in my mind; the second resulted in a profound inner experience that only the grail could symbolize. While there might not be an actual, physical object called the grail, the grail experience and transformation are both real and attainable. I now know, with utmost certainty, that all the other experiences in my life, good, bad, and indifferent, led me to this realization—changing my entire outlook on life.
Overnight my world was transformed. I rewrote the chivalry manuscript in a matter of weeks, more certain than ever that its ideas were valid and important. I then created this web site in order to reach as many people as possible, hoping that my discoveries and experiences would help others as well.

Special Features: